Are we the best real estate agents in the Seattle?
Matt, Marta, and I have found ourselves asking this question a lot recently. We know it's a lofty goal. After all, there can only be one "best" and this is a crowded industry. Do we even know what it means to be the best real estate agents in Seattle/King County!? Do we need to have the most sales? The most luxurious listings? Perhaps we need the best best brand recognition?
None of that sounds right to us.
So, we looked in the mirror and saw that we'd known the answer all along. The best real estate agents are the ones with the happiest clients, duh! It's right there in the Get Happy at Home team name!
Once we figured this out, the next step quickly became clear.

Getting Happier at Our New Home
Get Happy at Home is more than just a brand. It's a mantra. It's something we strive for. But sometimes we have to grow and change to live up to that mantra. This is why, after much reflection and careful consideration, we have decided to move brokerages from Coldwell Banker Bain to Compass Real Estate.
We couldn't be more excited.
1. Time for a Change
As a team, we take immense pride in what we do. Our clients are our people. They should get our best. Recently, we asked ourselves whether we were truly doing everything we could to give our clients the competitive edge and seamless experience they deserve. While Coldwell Banker is undoubtedly a strong brokerage with a rich history, we've seen for ourselves that it is no longer the industry leader it was when we began this journey.
The future isn't coming—it's already here. We'd rather be at the tip of the spear than the back of the line.
To be the best real estate agents we can be, we knew we had to embrace change and explore opportunities that would empower us to better serve homebuyers and sellers. We recognized the significance of staying at the forefront of technological advancements in the real estate sector to keep our clients ahead of the curve. The future isn't just coming—it's already here. And we'd rather be at the tip of the spear than the back of the line.
2. Compass is Leading the Way with the Best Real Estate Agents
In our quest to provide exceptional service, we found a natural fit with Compass Real Estate. Unlike traditional brokerages, Compass is more than just a real estate company. It's an industry leading technology firm that puts agents first. This approach enables us, as agents, to focus more on what matters most – our clients.
Real estate is a game of momentum and growth. Whoever is growing is winning, and whoever isn't falls behind. One of the key reasons for our move is that Compass is the fastest-growing brokerage in the nation. It's impressive growth is a testament to the company's commitment to innovation and ability to adapt to an ever-changing real estate landscape.
Compass's forward-thinking approach aligns perfectly with our vision for the future of real estate sales. We firmly believe that technology will drive the industry forward. By joining Compass, we position ourselves well ahead of other agents, allowing us to lead the pack rather than settling for scraps.
3. "Real Estate is Fun When It's Done Right"
Get Happy at Home is our mantra, but this is our motto. And we believe it. The joy of real estate lies in the excitement of our clients as they embark on new chapters in their lives. Compass's innovative technology enhances this joy for both us and our clients. As just one example, the Compass home search app provides an easy and convenient way for us to communicate with our clients and provide them with instant updates on new listings. This seamless connection streamlines the buying and selling process, ensuring our clients have the information they need at their fingertips.
Moreover, Compass's superior back-end technology reduces the time we spend on tedious administrative tasks, giving us more time to focus on what truly matters: exceptional client service. With improved marketing, communication, and organization tools, we are empowered to deliver a smoother, more enjoyable real estate experience for everyone involved.
No Looking Back
Coldwell Banker is the past. Compass is the future.
And so we embark on this exciting new chapter in our quest to be the best real estate agents in Seattle and beyond. Real estate is a dynamic industry, and we are confident that our move to Compass will allow us to lead the way and continue making dreams come true, one happy home at a time.
——
P.S., Some Data Showing Who the Best Real Estate Agents in Seattle Are
Have you seen those Redfin commercials claiming that, "Redfin Agents Sell for more"? Well, that's false. Compass agents sell for more. More than the market, and way, way more than the downtown Seattle Redfin Office. Check out this graph comparing Redfin to the actual best real estate agents in Seattle (Downtown Compass) & the Get Happy at Home team leader, Matthew Miner, and the King County market as a whole.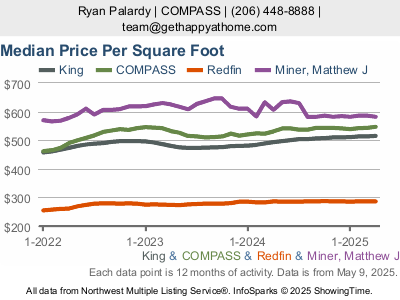 Curious what it's like to work with Compass and Get Happy at Home? We're ready to help! See more about our home search and selling processes. Get in touch with us here. 
CHAT WITH US