Located in Seattle's Denny Triangle neighborhood, The Cosmopolitan condo building has a lot going for it. Located at 819 Virginia St Seattle, WA 98101 in a *fantastic* neighborhood nestled right in between Downtown Seattle, South Lake Union, and Capitol Hill, urban bliss doesn't get much better than this. 
Here are a few quick highlights of The Cosmopolitan: 
Premium Building Amenities
High-end building amenities promise easy living—the laidback luxe life you've always dreamed about is at your fingertips! Lounge on the park-like rooftop deck and take in big views, enjoy al fresco dining, and entertain guests all without having to leave the comfort of home. Unwind in the hot tub or sauna after working out in the gym, enjoy peace of mind thanks to the 24-hour concierge, and host meetings in the business center, and enjoy the flexibility that the guest suite offers. Additionally, the building is made from concrete and steel (which is what everyone wants), making it super quiet!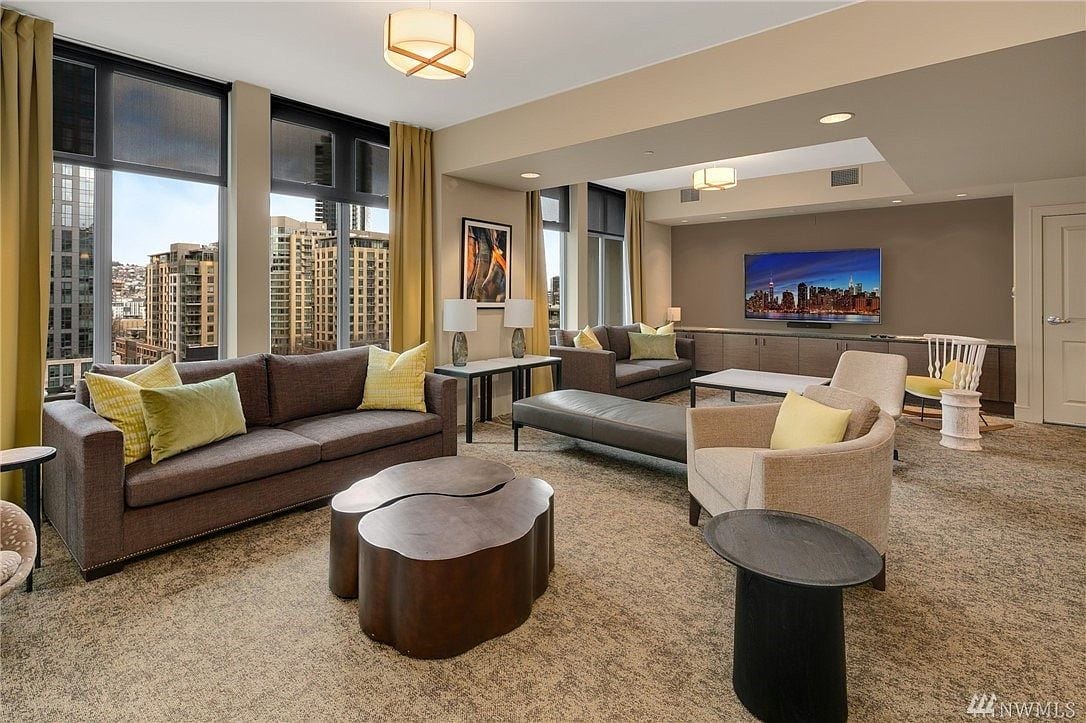 Well-Managed Building & Plenty of Reserve Funds
If you've never lived in a condo before you might not think about this aspect of condo life, but living in a well-managed building is truly worth a lot! The Cosmopolitan is 72% funded, which *incredible* and absolutely unheard of when it comes to condo buildings (we usually see buildings at around 30-40%). The Cosmopolitan has $2 million+ in reserves, so there is a very low chance of a special assessment happening. Plus they are continually making improvements to the building… and they've got a great resale certificate! 
Excellent Investment 
Denny Triangle is one of Seattle's most resilient neighborhoods when it comes to investments, and Denny Triangle real estate has gone up by just 20% this year alone. (Yes, you read that right.) If you're currently renting and you're on the fence about buying, consider this: The average rent in this neighborhood will end up costing you $51,000/year. In 3 years, you've also spent $153,000 on rent… and at this point, you can't sell your rental, and you can't get any tax write-offs. You might as well have bought at that rate! Not sure you'll want to live there in a few years? The Cosmopolitan allows rentals—move out and keep this condo as an investment property! Click here to dive more into the numbers and the benefits of buying in Denny Triangle. 
Prime Location
The Denny Triangle neighborhood has completely transformed since The Cosmopolitan was built, greatly adding to home values here. Denny Triangle was once a dilapidated neighborhood, and it's turned into a thriving hub where you can easily access some of the best dining, nightlife, entertainment, parks, and shopping in town. Pick up dinner from Whole Foods, browse the South Lake Union Saturday Market at Denny Park, catch a Broadway show at the Paramount Theatre, enjoy a myriad of dining and bar options… all of this and so much more are merely blocks (or less) away! For those who love getting out and taking advantage of all that the city has to offer, you just cannot beat a location like this. Pike Place Market, the Space Needle, Lake Union, Capitol Hill, and so much more are all less than 1 mile from home.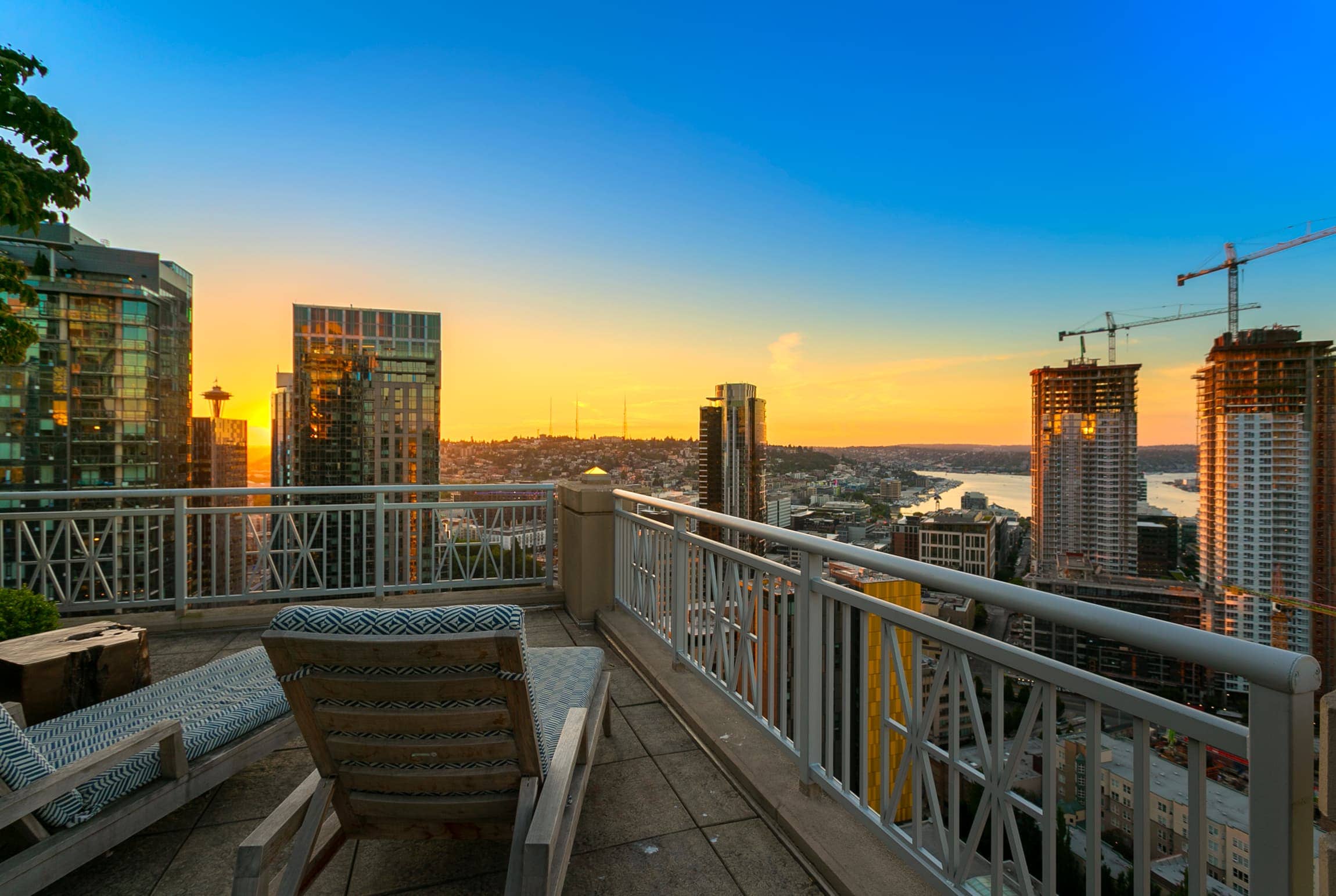 The Cosmopolitan, Turnaround Kid
So, what's this "turnaround" kid stuff about? 
The Cosmopolitan was built in 2007, and it sold out in literally about 5 minutes. The thing is… the bulk of these buyers were investors, and you know what happened in 2008. The recession deeply impacted the Cosmopolitan in a negative way, and the building ended up with a lot of foreclosures and short sales during the time. 
Anyway, the building (like lots of condo buildings at this time) fell on hard times, and ended up getting a bad rap in the 2008-2012 years. Now, during this same time, another thing happened. In 2007, a law was passed that a condo association had 5 years to sue a builder for any problems. We ended up with a situation where, in many cases, lawyers were calling buildings and letting them know about the new law, and as a result many buildings built during this time went into litigation. (In some cases, there really were problems that needed to be resolved… in others, it seems like lawyers were maybe hoping for their own pay day.) Unfortunately, this also meant that you couldn't get financing in those buildings while they went through this process, which ended up seriously hurting a lot of the buildings. 
However, The Cosmopolitan took a different approach. They didn't sue the builder, but instead they negotiated with the builder to get their problems solved. To the builder's credit, they were very good to work with and gave the building millions of dollars, so The Cosmopolitan was able to get the updates they needed AND keep financing open to buyers. 
Fast forward to now: The Cosmopolitan is not only a very well-run building, but it's in a neighborhood that has completely transformed in the time since it was built. However, all too often, a building can get a negative reputation among real estate agents, and even after the "rumors" are no longer true, sometimes the negativity can stick around long after the information is actually useful. 
The takeaway here is the fact that not all of the rumors you hear about condo buildings reflect their current situation. Sometimes, a rumor can outlast its usefulness, and that is definitely true in the case of The Cosmopolitan. 
Another big perk of The Cosmopolitan is that is represents a solid, safe investment—click here to view our post where we break down the numbers behind buying vs. renting!
---
Our latest listing in Denny Triangle is a 2-bedroom, 1.75-bath condo in The Cosmopolitan. Click here to see all photos + info!
CHAT WITH US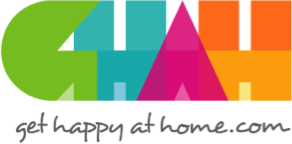 In everything that I do as your REALTOR®, I have one guiding principle in mind: To make certain that your home-buying or selling experience is a happy, successful, wonderful life experience! We build trust and security with our clients using knowledge and transparency.