Beacon Hill & North Beacon Hill
The Best Restaurants in North Beacon Hill (A Foodie's Destination Neighborhood!)
Matt Miner,
October 28, 2021
North Beacon Hill in Seattle has become a neighborhood of destination dining. You'll find everything from street tacos, diners with vegan burgers, and Japanese-inspired pastries, to Filipinx cuisine, fried chicken sandwiches, Mediterranean fare… and more. If you're lucky enough to live in this Seattle neighborhood (which is one of our favorites to spend time in… it's even where Matt lives!), you don't have to travel far to find a wide variety of delicious, rave-worthy food. 
Here are a few of our very favorite restaurants in North Beacon Hill:
This newer addition to the Beacon Hill foodie scene just opened up in the Summer of 2020, and Milk Drunk is brought to us by the owners of Homer. As the name suggests, you'll find incredibly popular soft serve here with all kinds of unique and rotating flavors. Heartier fare includes fried chicken sandwiches, and of course you can choose from slushies, cocktails, beer and wine as well. Check out Milk Drunk's menu! 
View this post on Instagram
View this post on Instagram
---
View this post on Instagram
In Seattle Met's Winter 2020 issue, Musang was named Seattle's Met's Restaurant of the Year, which is a pretty big stinkin' deal. There are many reasons for this, first and foremost of which is the food. An eclectic menu of Filipinx cuisine offers tons of gluten-free, vegan, and dairy-free options, plus several meat-focused dishes all infused with mouthwatering flavors that will keep you coming back again and again. In addition to Musang's impressive menu, they are also dedicated to providing food to those in need. During COVID-19 lockdowns, Musang provided free meals to the community, no questions asked. Learn more about their community meal program here. 
View this post on Instagram
---
Oak offers a classic diner atmosphere and a 21+ dive bar in the back, and you can expect natural beef burgers, cafe-free organic chicken, and *tons* of vegan and vegetarian options. You can't go wrong with one of their burgers, and we highly recommend the Fried Chicken Kale Caesar, the Oak Classic Burger, the Field Burger, and the Bourbon Apple Crumble.  
View this post on Instagram
---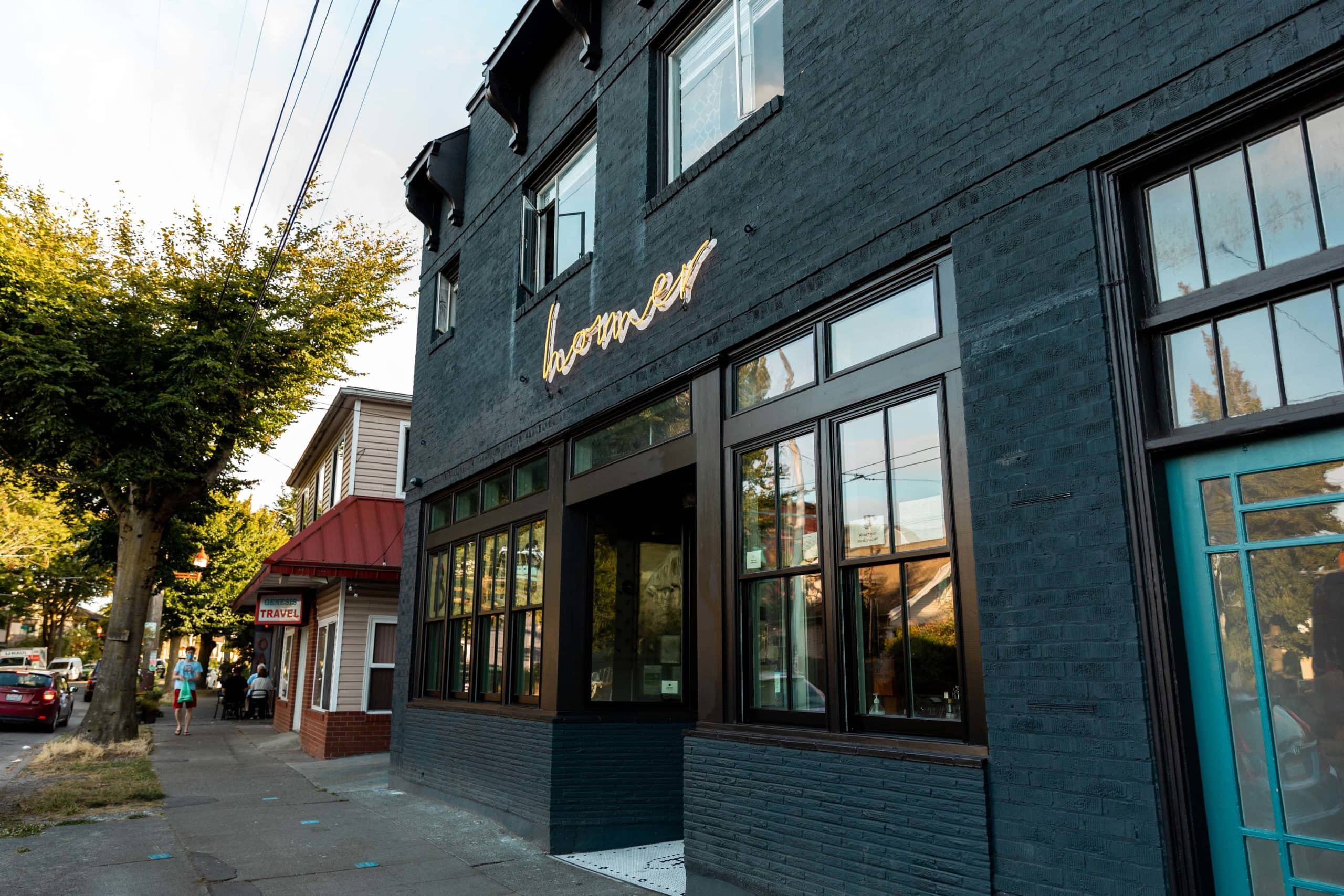 Mediterranean- and Middle Eastern-inspired cuisine fills Homer's extraordinary menu. This is a destination restaurant with a tantalizing selection of dips (like lamb ragu on tahini, or a classic hummus with marinated chickpeas & cilantro), small plates (like Roasted cauliflower with currants, za'atar, aioli & kumquat, or Pork & lamb meatballs stewed in tomatoes and dried fruit with yogurt & tomatillos), and… oh, just take a look at the menu for yourself, but beware if you're hungry 😉 
View this post on Instagram
---
Perihelion shows off even more destination dining in Beacon Hill, and in addition to an always-excellent rotation of beers on tap, their extensive menu is just as impressive. This is one of those breweries that's worth visiting even if you have no plans to drink beer—the food (and the desserts… oh my… the desserts!) is that good. Check out their online takeout menu here. 
View this post on Instagram
---
View this post on Instagram
This Seattle staple has grown to 4 different locations, and lucky for Beacon Hill residents, one is nestled right in El Centro de La Raza, right by the Beacon Hill Light Rail Station. Tacos Chukis simple menu features a selection of tacos, mulitas, "baby" burritos, quesadillas, and tortas. Stop by here when you hop off the light rail and enjoy your tacos in the plaza! 
---
View this post on Instagram
Petite Soif, a wine bar on Beacon Avenue South, opened up just a few months before COVID-19 lockdowns. It was a scary time to own and operate a restaurant or bar, to say the least, but Petite Soif got creative and made it work. They sold wine packages online along with pantry and lunch items, which were all very popular during stay-at-home orders. You can still purchase bottles of wine to enjoy at home of course, but now you can also sip in the shop while enjoying small places, like dips, housemade pickles, antipasti plates, etc. Take a look at their menu and enjoy your next happy hour catch-up sesh with your bestie in their "secret garden"! 
View this post on Instagram
---
Wood-fired pizza, small plates, seasonal produce, salumi, cheese, housemade bread… this classic Italian eatery was featured in Condé Nast Traveler 's "21 Best Restaurants in Seattle" roundup and with good reason. You won't find pasta on the menu here, but wood-fired pizza, meat balls, seafood, salads, and homemade bread all make up Bar del Corso's dialed-in menu.
View this post on Instagram
---
Parisian pastries meets Japanese-inspired flavors with this popular bakery that has 4 locations throughout Seattle. Along with classic pastry staples like chocolate croissants, danishes, and turnovers, you'll find green tea muffins, azuki (red bean) croissants, and black sesame shortbread cookies. 
View this post on Instagram
---
View this post on Instagram
In the midst of the COVID-19 pandemic, the owners of Tippe & Drague announced they'd be selling their alehouse. However, things have (thankfully!) change and while the owners will be leaving Tippe & Drague behind, the North Beacon Hill mainstay will be taken over by one of their previous servers. 
You can count on Tippe & Drague for delicious beers on tap (check out the rotating list here), a mouthwatering Sunday Brunch menu, almost daily menu specials, and a classic menu of sandwiches and salads. 
---
View this post on Instagram
Situated right on Beacon Ave, Baja Bistro was Beacon Hill's first and only gay bar, and you could also count on this local favorite for excellent happy hour details and a hearty, no-nonsense breakfast. We were SO SAD to see Baja Bistro permanently close during the pandemic but there's good news! They're re-opening in a new space just a few blocks away from the original location. 
---
Our latest listing is a 2-bedroom, 2.5-bath townhome in North Beacon Hill, and it's wonderfully close to all of this fantastic dining! Click here to learn more.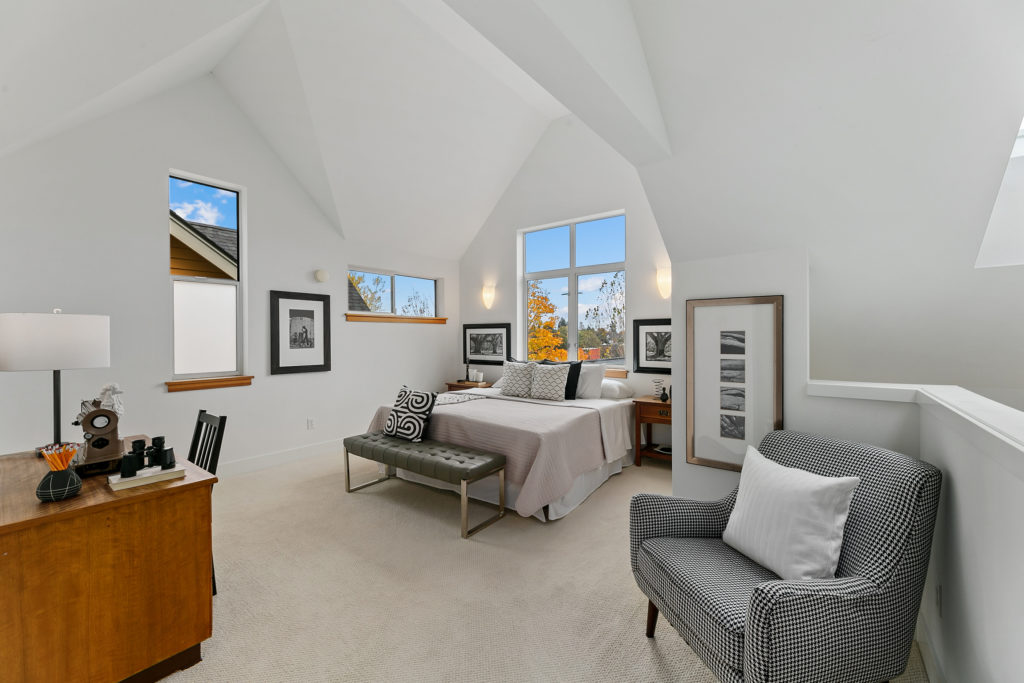 CHAT WITH US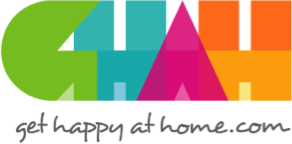 In everything that I do as your REALTOR®, I have one guiding principle in mind: To make certain that your home-buying or selling experience is a happy, successful, wonderful life experience! We build trust and security with our clients using knowledge and transparency.